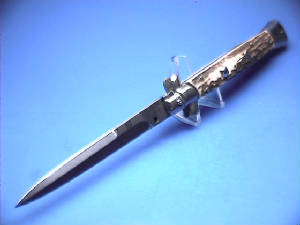 This is one of my favorite pieces...a Frank B./wSb Stag Half Grind Stiletto that I have been lucky enough too acquire. It is not for sale quite yet......I do still have some beans and bacon stored for winter, but I will let you know if things get a little lean and it goes up for sale.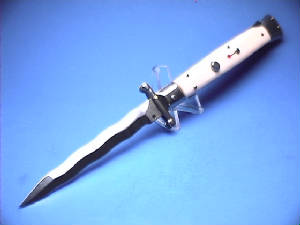 New for 2005....#11 Frank B./wSb Stag Kris Flat Button/Red Dot Safety Swinguard Stiletto

#11 Dark Horn Kris Stiletto - Frank B./wSb Series
Limited Lifetime Warranty on all knives in this series....
Another, more detailed look at the craftmanship Sr. Beltrame uses to undertake hand crafting a Swinguard Automatic Spring Steel Stiletto.
From the Frank Beltrame Coltellerie, Maniago, Italy. World reknowned as the Switchblade capitol of the world.
Frank Beltrame & wSb *New High End* Collectable models are available at the sites linked here. Each one in the Series comes with a "Limited Lifetime Warranty" included....please take a minute to drop in, look things over a little, and get a feel for the place, then register and start enjoying yourself.........treat yourself to the adventure of automatic knife collecting....you are guaranteed to have a great time I can assure you.

Gotta love those Frank B. Flat Button Kriss Swings
True artistry and craftmanship as you can see.......
This is the very first time in history that this particular blade design...The Kris Grind, has been implemented into a Genuine Italian hand crafted Frank Beltrame 11" Natural Authentic *Stag* Swinguard Automatic Stiletto Knife.
Due in part to the owner/operator of Swinguard.Com...Mr. Brad Skipper who contributed a great deal of time and spent a considerable amount of time with the negotiation between himself and Mr. Beltrame, and making this knife a reality. It was highly antisipated and accepted by the collecting community, and is a very sought after piece within the collectoring circle. The new "Frank B. & wSb" high end collectable series is a very sought after automatic knife due to this long awaited collaboration between two great minds in the world of cutlery..........Speaking as a very small part of an ever growing community, I wish to extend my thanks too you both...A job, and very well done gentlemen.....
Ya'll be sure to keep on the look out for future knife designs coming soon to a web site near you......
ASO